WhatsApp Business promotion tool helps you to promote your business to more than 1.5 billion users across 180 countries with rich text, audio and video messages. WhatsApp Business promotion is highly effective way of promotion as the visibility of your message is very high, so response also increases.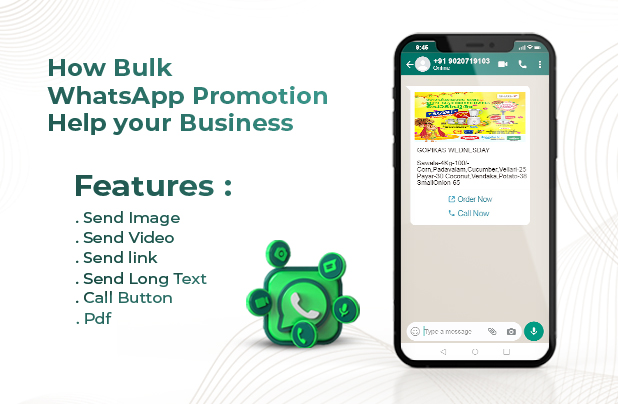 Multiple research studies have proved best ROI on Bulk WhatsApp Promotion spends as compared to any other marketing media like ad-play, Facebook promotion, Google AdWords or LinkedIn Business promotion. We can help you manage your bulk WhatsApp campaigns in such a manner so that you achieve highest ROI on your spend. Not only this, but we also have support of monthly refreshed pan India smartphone user database to promote your business.
By using our Bulk WhatsApp Services, you can provide your customer with some important updates related to your brand, reminders, offers, appointments, anniversary celebrations, b'day wishes, monthly discount offers, or any other End of season offers.
Our Bulk WhatsApp panel is easy to use and simple to understand. You can simply extract your customer data in excel file, which can directly by uploaded to send WhatsApp campaigns. These WhatsApp Campaigns are easy to execute and very effective to communicate your promotion or marketing message.
How Bulk WhatsApp Promotion Help your Business
Our WhatsApp Panel is configured to send image up to the size of 1 MB each (4 photos). An Image can speak thousand words for your brand. This feature makes our tool very popular among marketers.
You can send all links with the text using our Bulk WhatsApp Promo panel. Since WhatsApp does not allow clickable links from unknown numbers, ask customers to reply "hi" to make links clickable.
These buttons open up many opportunities for businesses worldwide to engage with your customers on WhatsApp, one of the most popular messaging applications.
We have ensured to give maximum liberty to our users to leverage best benefits out of WhatsApp Marketing. You can upload 1 video up to 3 MB. And yes, your video will go to millions in seconds!
Our Bulk WhatsApp Promotion Tool allows you to send text up to 1500 Characters in one go. Unlike any other medium of promotion, this is the longest possible message length.
Our bulk WhatsApp promotion features allow to send one MB sized pdfs.